Nicole Kidman's 'Reaction' To Will Smith, Chris Rock Happened Hours Before Oscars Slap
Nicole Kidman's photo of herself "reacting" to Will Smith slapping Chris Rock went popular on social media on Sunday.
However, it turns out that the photo was taken before the Oscars 2022 were even televised.
The 54-year-old Best Actress nominee was caught seated in her Armani Privé gown, her jaw dropped and her eyes wide open, as if she was about to rise from her seat.
As many fans assumed Kidman was reacting to the slap, the shot was taken about 4:30 p.m. PT, while guests were still settling in – three hours before the slap.
The Oscars presented eight honors in categories such as film editing, sound, makeup, and hairstyling prior to the televised portion of the event.
After being taken out of context, Kidman's surprised reaction — most likely to one of the winners — became a worldwide meme.
Several sources mistakenly claimed Kidman was reacting to the moment Smith, 53, struck Rock, 57, onstage after the comic mocked Jada Pinkett Smith's bald head, and the photo went viral.
"Nicole Kidman reacts to the #Oscars altercation involving Chris Rock and Will Smith. "A NEW MEME HAS BEEN BORN," one fan wrote below the image.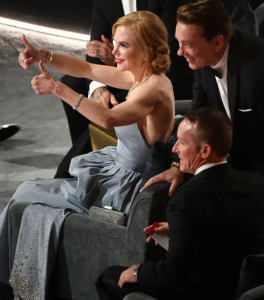 Another user said, "NicoleKidman and her hubby [Keith Urban] having a front row seat watching Will Smith slap the s–t out of Chris Rock #Oscars#Oscars2022."
"Nicole Kidman should have received an Oscar for her reaction to the Will Smith Slap," said a third.
Another said, "Will Smith slapped Chris Rock so hard he fractured Nicole Kidman's Botox."
Lupita Nyong'o, who sat behind Smith as he begged Rock to "keep my wife's name out of your f–king mouth," was also quickly meme'd.
"Lupita Nyongo is slowly waking up to the fact that it's not a bit, and Will is Angry mad #Oscars2022," a fan tweeted with a video clip.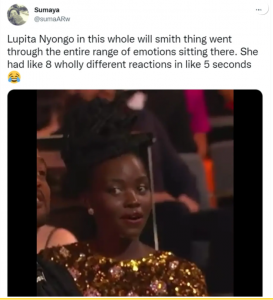 "Sitting there, Lupita Nyongo went through the complete range of emotions in this Will Smith thing." Another person remarked, "She had like 8 completely different emotions in like 5 seconds."
When Smith stepped on stage and punched Rock in the face after the comic made a joke about Pinkett Smith, 50, starring in "G.I. Jane 2" and mocking her alopecia, the audience gasped.
During his Best Actor winning speech, the "King Richard" star later apologized tearfully to the Academy and his fellow nominees for his behavior. He and Rock, on the other hand, are said to have buried the hatchet after the awards event.
At the Vanity Fair afterparty, Sean "Diddy" Combs verified to Page Six that Rock and Smith had reconciled their differences.
"That isn't an issue. That's it for now. "I can corroborate it," Diddy, 52, said, calling the two "brothers."