Kind Man Stepped Forward And Paid Student's Airline Bag Fee So She Didn't Miss Flight
Delilah Cassidy, a law student, was about to miss her trip owing to increased luggage taxes until a compassionate guy came up and made sure she could board.
Delilah stated in an online post, "WOW alright so the most incredible thing just occurred to me and I can't help but share it with the world."
Delilah was returning home from Europe when she was informed that she would have to pay for her carry-on luggage with a credit card rather than cash. However, because she was traveling overseas, her cards were denied because her bank had not updated her location.
"American Airlines has implemented a new policy requiring passengers to pay to bring a carry-on bag onboard the plane.
That's ludicrous, but it's not the point. They measure it and say it's just a bit too big after I combine my bags into one.
They proceed to charge me $50, despite the fact that they only accept credit cards and not cash. Because Chase doesn't know I'm back, all of my cards have been denied since I returned from Europe. They've informed me that I'll have to miss the flight and return to the ticket booth to pay." she clarified.
Delilah's trip home was only a few minutes away, so returning to the ticket booth and going through security would have caused her to miss her flight. She was bewildered and unsure of what to do.
She remembered, "I'm pleading, distraught after a long day of travel."
Then a stranger approached the counter and started conversing with the airline representative.
"Then this man approaches and inquires, "How much is it?" "I got it," he responds when they inform him $50.
Delilah was taken aback when a stranger approached her to offer assistance, and she tried to deny his offer because she was focused on rapidly working out a solution, but the compassionate man nonetheless assisted her.
"I'm taken aback and tell him not to worry, and he passes the lady his card while the American Airlines personnel stare in awe at this man's kindness." Delilah continued, "They swipe the card, and he tells me to have a good flight and get on board."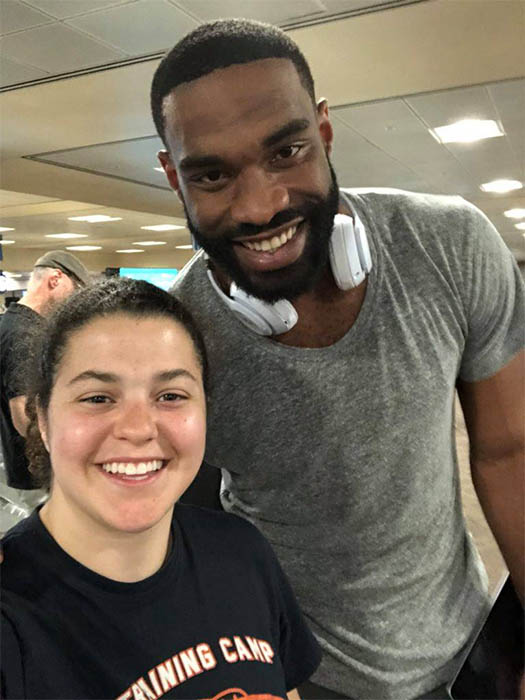 She was brought to tears by the stranger's compassion and her thoughts of thanks. She attempted to offer him money, but all he said was, "pay it forward."
"As I type this and board the plane, I'm weeping." This man was a true saint. I attempt to give him my money as he's seated in first class, but he just shakes me off and tells me to pay it forward. My heart feels overjoyed. In this world, there are decent individuals. Be that person for someone, because I know I will be after this."
Jermaine Gresham, an NFL player with the Arizona Cardinals, was later identified as the compassionate guy by Delilah.