A Simple Math Puzzle To Test Your Mathematical Skills. Can You Find The Missing Number?
Let's see how quickly you can think of a solution. A mathematical series of numbers is shown below. Are you able to locate the missing number?
32, 45, 60, 77, ?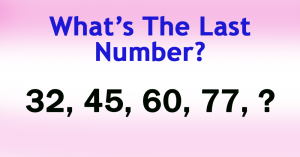 Here is the answer:
.
.
.
.
.
.
ANSWER:
You must be a genius if your answer was 96! Do not be dismayed if you were unable to obtain the solution. We'll explain how we arrived at our conclusion.