Wavy Lips: The Odd Beauty Trend That Took Over Social Media
We've seen wavy brows, Kylie's lip trend, and duck face – but this latest Instagram beauty trend takes odd beauty trends to a whole new level. Wavy lips are the latest beauty craze, and we're not sure how we feel about them.
The wavy lips trend is a recent one in which people apply cosmetics to their lips to make them seem wavy. Sometimes it's just the top lip, and other times it's both. This appearance, on the other hand, is unmistakably about creative expression — after all, it is a touch odd-looking.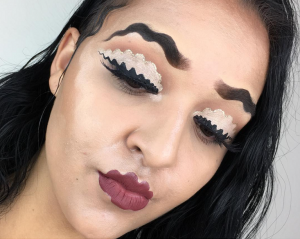 PopSugar's makers remarked, "We like to imagine this trend turns your tongue into a lovely, fluffy cloud." "For your Lisa Frank unicorn Halloween costume, utilize this approach to create wavy lips by painting them with bright colors. Alternatively, match that with your squiggle brow and you'll be the most fashionable friggin' person at your costume party."
A Look at a Costume
That's correct, this isn't your typical daytime appearance. It's not something you'd wear to class or school, to an interview, or on a date. It's all about trying new things, having fun with cosmetics, and utilizing your face as a canvas. That, plus it's a very good makeup for a costume
It's usually done by drawing wavy lines slightly above your lip line using makeup. Then you use a variety of colors and mixing techniques to make it appear as though those are your "natural" lips. Some people have recommended using lip fillers to create the appearance, but most physicians advise against it since it might harm your lips permanently.
Wavy lips look wonderful with bright hues, but they also look excellent with pastels and other muted tones. You may also draw the squiggles within your lip line if you want a smaller mouth.
It's your face, so do whatever you want.
As previously said, most of us are unlikely to wear this style in regular settings. That being said, if you want to wear this on your next coffee date, while shopping, at a concert, or anywhere else, go for it! It's your canvas, your face. You are the artist, and you have the freedom to express yourself as you choose.
While the wavy lips trend is still going strong, have fun with it. Continue to experiment with cosmetics in any way you see fit, and enjoy your life to the fullest.