An Olympian Sold Her Silver Medal To Fund A Boy's Surgery. The Buyer Let Her Keep It
In the Tokyo Olympics, Maria Magdalena Andrejczyk took silver in javelin throwing. However, the Polish Olympian revealed on Facebook a few weeks ago that she will sell off her silver medal to generate money for Miloszek Malysa's operation. The 8-month-old was on hospice at home and required emergency heart surgery in the United States to survive. Monika, Miloszek's mother, appealed for aid on the crowdfunding website to save her son. His situation was just getting worse.
So Andrejczyk picked up the phone. She encouraged others to bid via private messages in a Facebook post. "He already has a leg up on Kubus, a kid who didn't make it in time but whose kind parents opted to donate the money they raised…. In this way, I'd want to contribute as well. My Olympic silver medal is being auctioned for him." The article has already received over 700 comments and 1.6 thousand shares.
Olympian Sells Silver Medal to Help Save a Life
Finally, Andrejczyk revealed the auction winner: Zabka, a Polish convenience store company. They offered $125,000 as the highest bid. Zabka, on the other hand, refused to accept the silver medal. Because the auction garnered more money than the Olympian had anticipated, the Olympian decided to call it a day so the family could get the funds as quickly as possible. Her admirers had raised an additional $76,500 for the baby, whose cardiac abnormalities are raising his blood pressure and damaging his lungs and heart arteries.
"It is with the greatest joy that I offer abka this medal, which for me is a symbol of effort, faith, and pursuit of ambitions despite numerous odds," Andrejczyk said after the auction in a translated Facebook post. I hope it will serve as a symbol for you of the life we fought for together."
Abka, on the other hand, had a surprise for the Olympian. In a Facebook post translated from Polish, the firm wrote, "We were inspired by the lovely and incredibly honorable act of our Olympian." "We also determined that Ms. Maria shall keep the silver medal she won in Tokyo because she shown her greatness."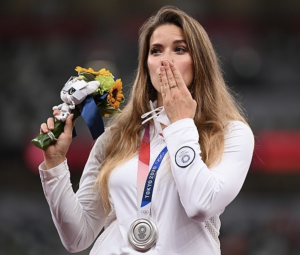 Survivor and Olympian
Despite the fact that Andrejczyk has never met Miloszek, she is no stranger to battling a life-threatening illness. The 25-year-old overcame cancer and a shoulder ailment that necessitated surgery to compete in Tokyo and win a silver medal.
She was diagnosed with bone cancer two years after missing out on a medal by two millimeters at the 2016 Olympics, yet she still made it to the finals in Tokyo. She took silver with a 64.61-meter javelin throw, which was only topped by China's Liu Shiying with a 66.34-meter throw. In an interview, Andrejczyk remarked, "I'm really pleased of myself." "Through a lot of agony and sadness, I battled like a lioness."
Before Zabka stated they wouldn't be accepting the original, the authorities in her village in Poland were planned on producing and presenting her a duplicate of her medal.
"Passing That Joy" is a song about passing on happiness.
Andrejczyk told the Polish sports show Eurosport Polska that winning the gold had brought her "enormous delight" and that she wanted to "carry that happiness on" to a small child who needed it.
"A medal's ultimate value is always in the heart," Andrejczyk added. "A medal is only a piece of jewelry, yet it may be quite valuable to others. Instead of accumulating dust in a cupboard, this silver can save lives. That is why I decided to put it up for auction to benefit ill children."
This isn't the first time a child's life has been spared by a silver medal. Piotr Malachowski, the 2016 men's discus silver medallist, sold his medal to earn funds for surgery to help a little kid with eye cancer.