Princess Diana Once Stopped At A Cemetery To Comfort A Woman Crying At Her Dead Son's Grave
Princess Diana was more than a stunning woman and a member of the royal family. For millions of people throughout the world, her legacy is a real source of inspiration. Diana was known as "The People's Princess" because of her unrivaled compassion and understanding for others. Her humanitarian activities took her to a variety of nations, and each visit was filled with feelings of compassion and unity.
But there is one time in particular that we will never forget. Diana and Ken Rutherford traveled all the way to Bosnia a few weeks before she died. Jerry White was also present.
Diana's final journey, and the two agreed to talk about it two decades later. Before the debut of Diana, Our Mother: Her Life and Legacy, Rutherford and White talked with Entertainment Weekly.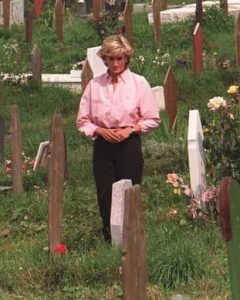 On August 19, 1997, Diana took an accidental detour to the Sarajevo War Cemetery, which became one of the most heartbreaking stories. She couldn't seem to get the image out of her brain. She needed to visit a cemetery in the area. Even though they were running out of time, she had to go.
Source: Instagram
Diana had begun strolling through hundreds of tombstones when they arrived to the abandoned Olympic stadium. At the burial of her son, she finally met a Bosnian mother. The Princess didn't speak Bosnian, and the lady didn't speak English. They simply hugged and expressed their grief.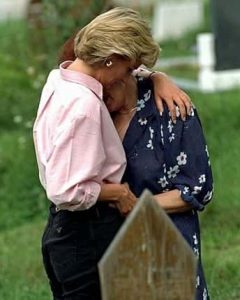 Source: Instagram
Diana leaned out and gently wiped the tears from the Bosnian mother's eyes. Her instincts were so strong that she insisted on going to the cemetery. Was this somehow connected to her death? Is she going to be buried? This story gives us the creeps.
The People's Princess was an excellent listener. She was always eager to help the less fortunate and listened more than she spoke. It was all about the individuals. She didn't give a damn about her feelings or how she dealt with stress. She had to come up and be there for all of them.
"Can you tell me about yourself?" That was the most often requested question. She was curious in other people's issues. Every time she embraced a hungry or sick child, her heart broke. She was unconcerned about wounds or illnesses. She wasn't supposed to embrace anyone, but she did anyway.
In 1997, Princess Diana visited landmine victims in Bosnia and Herzegovina. Tim Rooke / Rex Features photo.
Posted by Princess Diana Legacy on Monday, May 13, 2013