Three-Month-Old Baby Becomes a Celebrity Thanks to His Resemblance To Boris Johnson
Little David from England is only three months old, but hair that everyone would envy – the little boy was born with lush blond hair, and his parents, but also everyone who will see him, jokingly say that he looks like the English Prime Minister Boris Johnson.
Tatiana and Ruslan from England had a son on March 1, but were in disbelief when they looked at his hair.
Both Tatiana and Ruslan have dark hair, but their son has blond, very thick hair. Now, however, they find that people constantly stop them on the street to get to see their child better.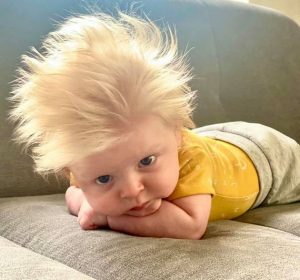 "David is like a star. "Everyone goes crazy when they see him."
Tatiana, 35, adds that almost everyone compares him to British Prime Minister Boris Johnson.
David is an average-sized baby, but because of his hair, when Tatiana first saw him, he thought he was huge.
"I thought he was a very big baby, but then I took a good look at his hair. At first I wondered how it could be so bright. It was only after bathing that I realized how much hair he had. I was shocked, and all the nurses told me the same thing. They could not believe how much hair he had."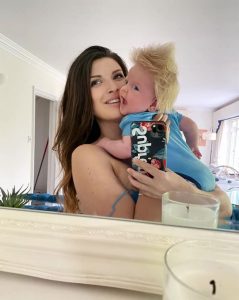 Because David had been compared to the British Prime Minister since he was born, 43-year-old Ruslan suggested to gave his name Boris. But Tatiana refused:
"There is no need to named his Boris for people to realize that he looks like him. The similarity is too obvious. Scary".
In the end, the couple decided on the name David.
Parents are still amazed at the baby's blond hair.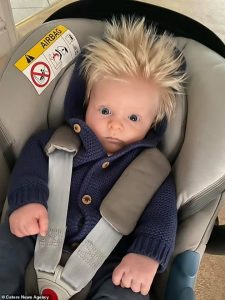 "We both asked the families where this gene came from. "We have dark hair, but David has blond hair and blue eyes."
"I dreamed my baby would be blonde, but I thought it was funny because we both have dark hair. "he husband jokes that it was good that we conceived him during the quarantine, because he does not look like us (so we are sure that it is not an affair with a third person)", Tatiana jokes.
For now, the parents do not plan to cut David's hair.
"I am curious to see how much it will grow, but it is already becoming difficult to maintain. When I wash his hair, I try to do his haircut, but as soon as it dries, the locks are scattered on all sides. I think I will have to dry it with a hair dryer soon."