Denzel Washington & Wife's Meeting Was 'Set up by the Heavens' despite It Costing Her All Her 'Food Money'
The biggest achievement in Denzel Washington's life is his 39-year marriage to Pauletta Washington, who gave up her profession to focus on their family. When their names were still unknown in the industry, the couple first met and fell in love, but they have been madly in love ever since.
Despite being one of the most renowned performers in Hollywood, Denzel Washington's marriage to Pauletta Washington continues to be his greatest achievement.
Pauletta, a fellow actress who shares a special affinity with Denzel, is one of his finest accomplishments. He does, however, contend that there is no universally applicable formula for a happy, long-lasting marriage.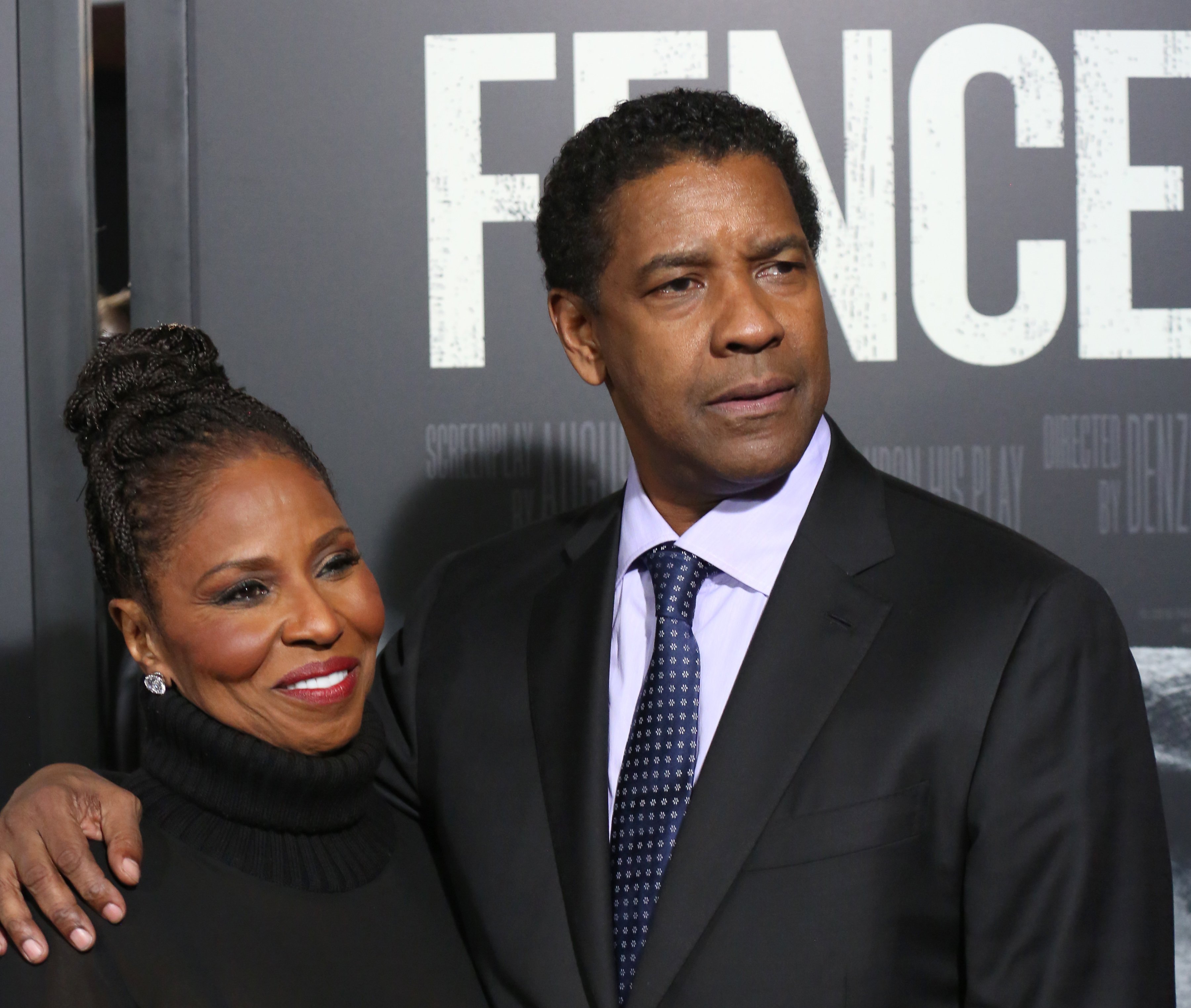 Denzel stated, "There is no trick to the ideal marriage. "Everybody has highs and lows; we have as well. You know, it's laborious. But we agreed to something. Marriage, the workplace, and mental stability all benefit from a strong spiritual foundation."
Pauletta attributes their solid basis to both of them also being "spiritual-based." She admits that a strong Godwink brought about their union.
A MEETING BETWEEN DENSEL WASHINGTON AND HIS WIFE WAS "SET UP BY THE HEAVENS."
When they first met on a New York film shoot, where they both landed roles, Denzel and Pauletta were both aspiring performers. Although the plot did not include scenes of Pauletta and Denzel together, she had already developed feelings for him. They remained silent once the filming stopped.
The two were at the same party six months later, and once the conversation got going, it never ended. Less than 24 hours later, they were reunited thanks in large part to fate.
Denzel and Pauletta each went to a play without being aware of the other's presence. When the play started, the actor arrived and quietly found a seat to take in the show. The two were startled to find each other in their seats when the lights came on at intermission.
The next evening, Pauletta invited Denzel to join her and her pals for the cast party. Denzel stopped Pauletta as she was about to board the metro and suggested that they take a cab instead. She then thought, "I like his manner."
The apparently romantic car excursion, however, ended up being Denzel's worst nightmare because the fee for the cab ride was more than he could afford. He remembered:
"I was using my eyeballs to burn a hole in that meter. How far did you say that party was, I kept asking."
Denzel eventually had to admit to Pauletta that he lacked the funds to pay for the promised cab fare. Pauletta said, "I thought, 'There goes my food money for the next week. But I still enjoy his style, I guess. Since that lovely evening, everything in their relationship has altered.
Pauletta, who was hunting for roles in several off-Broadway companies, caught Denzel's attention. Pauletta was welcomed to live in with them as the couple worked to establish themselves in Hollywood by his mother, who also approved of her.
Because they fell in love before they were wealthy and well-known, Denzel and Pauletta's union was even more sincere and unique. Instead, they helped each other succeed to reach their current position.
The couple wed in Newton, South Carolina, Pauletta's hometown, after only a few short years. Denzel, though, struggled to win his partner's sweet yes. Denzel admitted in a prior interview that he twice asked Pauletta to marry him just to hear her say no.
She didn't agree to his marriage proposal until his third attempt. They later welcomed four lovely children, twins Olivia and Malcolm, John David, Katia, and Olivia and Malcolm, who were raised in a loving household with parents who put their needs first.
Denzel and Pauletta nevertheless had to put in a lot of effort to make ends meet. They made every effort to alleviate the burden on their children since they were aware of the effect it would have as superstars.
The devoted parents think that their strong faith is what led to their happy family. The "Man on Fire" actor advised people to simply be honest, work hard, and have faith. He went on:
"I used to think that what I did for a living – acting – was my life, but when we had that first child, acting became making a living. The child was life."
Denzel Washington preaching Family First! ?

The erosion of the family unit underlines so many issues we face today! #powerful #focusonfamily pic.twitter.com/qyMBeQaWer

— Marcellus Wiley ? (@marcelluswiley) June 12, 2020
It's possible that Pauletta's upbringing had an impact on how they perceived the value of family. Denzel claims that his wife was raised near her relatives.
The kind, he clarified, "where everyone shows up at the airport to see you off." When it's time to depart, everyone starts to cry and starts waving at the jet until they can no longer see it. They have an ice cooler, collard greens, chicken, and potato salad there on the runway.
Apart from their close-knit family, Denzel and Pauletta attribute the strength of their relationship to their shared regard for one another. Pauletta appreciates how honest and open her and her husband are with one another and how they discuss any subject at all.
The actress lauds Denzel for "his intelligence, his exceptional talents as a father, and the way he can take a negative and turn it into a positive."
On the other hand, he respects her for her strength and her sense of humor, which is similar to his. He gives his wife credit for making their house feel like a home and for raising their children nicely. Additionally, Denzel and Pauletta's union successfully resisted the expectations of Hollywood to create the ideal union.
Sadly, Pauletta had to give up her job to focus on becoming a full-time mother and wife; yet, she never looked back on that choice. She regarded her family as her top priority and the one thing that would matter the most even if she lost her reputation.
Denzel remarked, "She has done the work." "She has consistently been the one. The daily religious instruction was delivered by her. She was the one who dropped them off at school." She didn't get envious of Denzel's success, though, because she was a stepping stone that allowed him to enjoy that freedom.
Behind the scenes, Pauletta maintains Denzel's composure and permits him to assist with domestic duties like taking out the trash and caring for the children. However, she is in charge of the kitchen and enjoys preparing meals for her loved ones and friends.
On June 25, 2022, the pair joyfully commemorated their 39th wedding anniversary, making them one of the longest marriages in Hollywood.
Source: news.amomama.com
Image source: news.amomama.com