70-Year-Old Widow Posts A Newspaper Ad To Find A Husband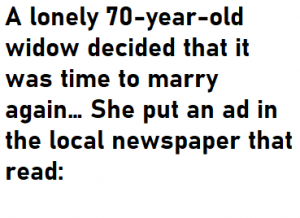 "I'm looking for a husband!" Must be my age group, not beat me, not run about on me, and still be a nice bed partner. Please submit your application in person."
She heard the doorbell the next day. She opened the door to see a gray-haired guy in a wheelchair, much to her dismay. He didn't have any arms or legs.
"You're not really asking me to think about you, are you?" the widow said. "Look at you – you've got no legs!"
"As a result, I won't be able to run about on you!" grinned the elderly gentleman.
She scoffed, "You don't have any arms either!"
"As a result, I'll never be able to beat you!" the elderly guy smiled once again.
"Are you still excellent in bed?" she said, raising one eyebrow.