3-Year-Old BFFs Who Battled Cancer Together And Are Now In Remission Share A Sweet Reunion Outside Of The Hospital
Two three-year-old best friends who battled cancer together finally got to see each other outside of the hospital.
At Phoenix Children's Hospital, two children, Payson Altice and Mack Porter, were treated for separate types of cancer. They grew inseparable there.
The children, on the other hand, were sent home earlier this summer, and they were separated for weeks. Fortunately, their parents saw how important their relationship is to them and planned a lovely reunion.
Payson was diagnosed with B-cell acute lymphoblastic leukemia in September 2020, only weeks after her third birthday. In January, Mack, her best friend, was diagnosed with Stage 3 Anaplastic Large Cell Lymphoma. Despite the fact that they were both treated at the same hospital, they were mostly segregated due of the COVID — 19 epidemic.
YOU'VE GOT A FRIEND IN ME!

Best friends Macky & Payson are so happy see each other for the 1st time outside the hospital walls❤️?

Macky is in remission from Stage 3 Anaplastic Large Cell Lymphoma.
(?Macky.strong)#childhoodcancerawareness#mackystrongpic.twitter.com/SUJp2A11Q6

— GoodNewsCorrespondent (@GoodNewsCorres1) August 10, 2021
Traci Barrett, Payson's mother, told Today:
"Payson was completely cut off from the rest of the world. Because of the epidemic, it was extremely difficult to meet new individuals. Every five minutes, she demanded new toys."
"And then there was Mack!"
Tracy was overjoyed that her child had discovered a real friend in Mack's face.
Dani Porter, Mack's mother, said:
"I had a feeling Mack was going to like her."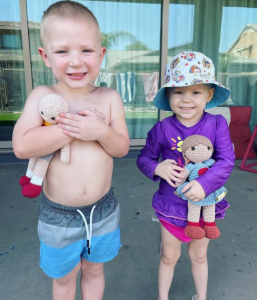 The two kids began playing together almost immediately after their initial meeting. Their shared love of Peppa Pig also helped them bond. They passed on their knowledge of dance and the Teenage Mutant Ninja Turtles to one another.
The lovely little BFFs have been released from the hospital after their cancer has gone into remission. However, they missed each other's companionship throughout the time they were apart. Ms. Porter elaborated:
"His first inquiry every morning was, 'When can I play with Payson?'"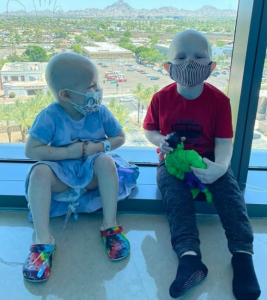 When the two of them eventually met outside the hospital, their parents filmed the heartfelt moment as Mack presented Payson with a bouquet of flowers and the two of them hugged passionately and affectionately.
They were later seen dancing, looking as happy as ever.
According to Mack's mother, who spoke to ABC News, "Just seeing our children be children was a blessing."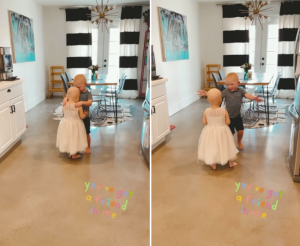 Payson's mother went on to say: "Look to the children in these frightening and difficult times because they will lead the way."
The two closest friends have continued to enjoy playdates together. They are now looking forward to starting preschool in the autumn.
Payson and Mack have GoFundMe accounts where you may help them: