Touching Photo Of Bus Driver Holding Boy's Hand On First Day Of School Goes Viral
For small children, the first day of pre-kindergarten may be challenging. There are a lot of new things occurring at once, such as splitting from their parents, moving to a new area, meeting new people, and starting a new routine. It's a lot to take in all at once, and many children weep as a result of the unfamiliar, frightening, and overwhelming environment. That was the situation for Axel when he began pre-k in Wisconsin in 2019. However, in a heartwarming story that will perhaps inspire optimism for the upcoming school year, the bus driver took care of him.
"When the bus door opened, he burst out crying."
Axel's mother, Amy Johnson, wanted to memorialize the important day with a photo aboard the school bus. Instead of a bright smile, the camera caught a crimson face filled with sorrow. "He was extremely thrilled to go, but he was pretty quiet as the bus came around the corner," she added. "When the bus door opened, I glanced at him and he began to cry." Johnson held to Axel as he lifted him up to place him in a bus seat, refusing to let her off the bus. "I told him, 'Buddy, you got this, and you're going to have a blast,'" Johnson added.
Meanwhile, the bus driver, Isabel Lane, beckoned them to the unoccupied seat just behind her. When Axel refused to let his mother go, she comforted him by holding out her hand. "I put my hand under the seat to see if there was anything else to grasp onto, and he grabbed it," Lane explained.
Johnson grabbed a snapshot of her son clutching the hand of the nice bus driver when she got off the bus. The photo was then shared on the Augusta Police Department's Facebook page, where it received more than 2.4 thousand likes.
"In our second 'official' year at the school, we definitely need to shout out our school staff," they said in the caption. Miss Lane, one of our amazing bus drivers, is holding the hand of a nervous little boy on his first day at school! Every day, we witness compassion in our teachers, bus drivers, custodians, administrators, food service workers, and paraprofessionals. We are really lucky to be able to collaborate with these individuals!"
The bus driver deserves praise.
Lane has received a lot of praise in the comments.
One reader said, "These are the individuals in our lives as youngsters that we will never forget!" "Thank you for your love and care, Miss Lane…"
Another person said, "This is really lovely!" "I can only hope that when my children need a shoulder, they come across an angel like her! You make moms all across the world glad that people like you exist!"
Lane, on the other hand, was taken aback by the compliments. "To be honest, I didn't think it was that big of an issue… "I think it's simply something I'd do," she explained.
Lane had only been a bus driver for the Augusta School District for a few months at the time. Despite her misgivings, she is deserving of this honor because of how successfully she works with children. Lane explained, "I could tell that he needed to be comforted, and it was the best I could do at the time." In fact, before they reached the end of the route, Axel stopped sobbing after speaking with the bus driver and holding her hand.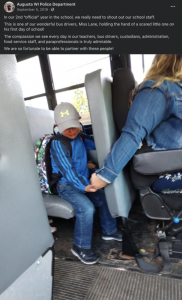 "In our school system, Isabel works as a bus driver and a special education aide," says Ryan Nelson, district administrator of Augusta Area School District. "The remarkable thing about Isabel is that, while this photograph has garnered a lot of attention, she is this sort of person every day with everyone she meets."
A small gesture might have a tremendous impact.
Lanes also learns a lot about the kids she drives due of the tiny community. She said she likes cheering for the children every day. "Every morning as the kids get off, I tell them to make it a nice day, and when I have a kid who I know doesn't like to go to school, I tell them, 'Yeah, I'll try.'"
And Axel became one of the children she supports. "The day following [his first day], he was waiting for the bus by himself, all grins, and [was] talking to me the entire time, so he is doing much better now."
"I think that applies for everyone, if you see someone who is struggling, even if it's just extending out a hand and indicating that you are there… You don't have to say anything, but simply being present may make a huge difference in someone's day."