UK's Oldest Person With Down's Syndrome Dies Aged 78 After Being Told He Wouldn't Live Past 12
Doctors told his family he would live only 12 years but he died in September 2020 at the age of 78. Not only did doctors lack knowledge and training about patients born with Down syndrome, but awareness of the disease was low. This has had terrible consequences for those who have been discriminated against and labelled as outcasts in society, and people have been treated differently. Things have changed a lot in recent decades and people are enjoying their old age. Mr Smith died aged 78 in September after doctors believed he had lived only 12 years.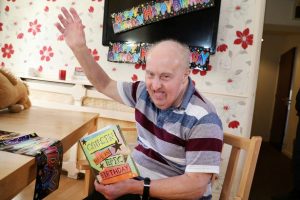 Robin Smith died on 27 September at the Northleigh Residential home in Kettering, where he lived since 1986. He lived in Kettering, Northamptonshire, and last year he became the new record holder when he turned 78 on October 9, because he was the oldest living Briton – a man with Down syndrome. He had thwarted the chances of his family since his birth in 1941, which had ordered him not to live more than 12 years. Instead, he led a pleasant and fulfilling life and was a big fan of Cliff Richard and Elvis Presley. Robin Smith, who was born with Down syndrome in 1941, died on 27 September 2020 at the age of 78 at Northleigh, a home for terminally ill people.
His numerous family and friends paid tribute to him, describing him as a beautiful soul with an unforgettable laugh. Staff at the care home said he lit up the room with his sparkling eyes and cheeky smile. "I spent 34 years in this home and it was my happiest place to spend time with the amazing staff and residents. To the staff I would like to say a huge thank you for your kindness and amazing care." Robin was adored by all of you. Staff at Northleigh plan to celebrate his life with an evening and Remembering Robin party on Friday, the day after his 79th birthday.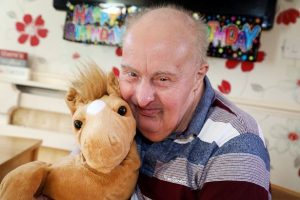 They served his favorite cakes and snacks and shared their favorite memories of him. "He was more than just a resident for me. He became part of the family. I was so happy to work with him. He was a legend at Northleigh."
He lit up the room with his sparkling eyes and cheeky smile, and no one who met him could resist worshipping him. He was a beautiful soul and his laughter will never be forgotten. In one way or another, he touched every heart. I was very pleased to know that I was part of his life. At his last birthday party he told me he was an amazing man and he explained that he considered it essential to have an active lifestyle and to keep himself as busy as possible.
He grew up on St. Margaret's Avenue in Rushden along with his parents Ivy and Sid and his two older brothers Elizabeth and Lain. He loved watching his favorite soaps on TV and eating Weetabix and cheesecake. He also liked to dance, was passionate about yoga and a big fan of bingo, dancing and horse betting.
The next record holder was Georgie Wildgust, who turned 78 in August. His case was similar to Robins's in that doctors did not expect him to live past the age of 10. He retired to live in Watcombe Circus Care in Carrington, Nottingham, but still had an active social life surrounded by family and friends.
Things were very different when Mr Smith was a child. Life expectancy for people with Down syndrome was much lower in the 1940s than it is today in the 1950s and 1960s. But thanks to medical advances and the care and love of Down syndrome people, the average life expectancy of people with Down Syndrome is today around 50-60 years – with only a small number of people over 70 years old.
Children with Down syndrome have often been abandoned. Many of them were sent to homes where their condition and other related illnesses such as heart disease were not treated. As a result, many of them died.
In the early years of the twentieth century, the eugenics movement launched a campaign to sterilize people with Down syndrome, which spread around the world. The Eugenics Education Society was established in 1907 in Britain and fought to sterilize and restrict marriage to the weak in order to prevent the perceived degeneration of the British population.