"Empty Nester" Couple Adopts 7 Siblings Who Lost Their Parents In A Car Crash
Parenthood is life's greatest blessing. It takes a lot of love, strength, wisdom, patience and knowledge to raise a child, but in life it is a thankful responsibility. After losing their parents in a car accident, these seven children were adopted by a vacant couple in California.
When the little ones leave the nest, many parents find it difficult to get used to the new life that they have dedicated to them. One such couple decided to do all they could – caring for seven siblings who suffered a terrible tragedy in May 2018. Pam and Gary Willis, from Menifee, California, have five biological children on their own, so when Pam heard about the car crash that killed the parents of 7 siblings, she was heartbroken.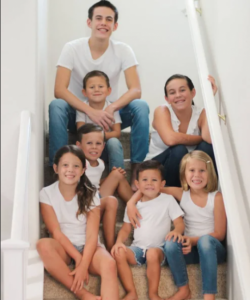 Pam said: "I saw how much these kids needed someone who loved them and they didn't have anyone to do it. I was persistent and determined to show that I had the desire and power to help them. I called the adoption services every week to show them that I wanted to help these children. One day my efforts were rewarded."
Pam, 49, a lawyer, and her husband, a U.S. Marine veteran, adopted the children, Adelino, 15, Ruby, 13, Alicia, 8, Anthony, 7, Aubriella, 6, Leo, 5 and Xander, 4. They welcomed their new home in 2016. Pam said that from the moment they met the children, it was an instant love.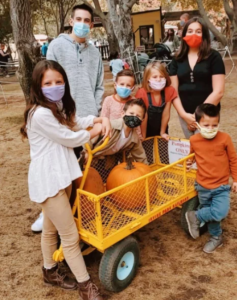 She looks at her husband and they both know they are doing the right thing. The sad story of the children has encouraged the couple to reconsider their adoption options. The couple helped children in need as they cared for children for several years.
When they came home, their problems calmed down, gained their confidence, there was no sleep disturbance, and the family bonded over their joys. They started calling them Mum and Dad. Their bond grew even stronger during their trip to Disney Land. Those who flapped their wings and left the nest came to meet their new family.
These amazing people are proud to be parents to seven children and are enjoying every minute of it.
Pam said:
"My older kids were very welcoming and treated the younger ones like their own. It is pretty full-on looking after seven children so my older two daughters do help out whenever I need a hand."
"Thank you for encouraging us on difficult days. Thank you for all the positivity you share with us. There's so much support and love from all of you." Large families face certain challenges, but they say they won't change anything.
In an attempt to give them a second chance at a decent life, the warm love of their late parents taught their children to love and enjoy life. "We never look back on the day we met her and we never doubt that we did the right thing. I notice how happy they are and make everyone else happy when we ask them. The elder of the seven, Adelino, said: "Thank you for giving us a life, there is no other feeling. We will never forget our parents, but they will never be replaced in the hearts of the new family that has grown so close together."