Creative Teacher Gives Anatomy Lesson in Full-Body Suit That Maps Out The Human Body in Extreme Detail
We all have cheerful teachers who go beyond that to make our days in middle school fun and informative in a way that kids appreciate. This one anatomy lesson is so creative that the students will never forget it.
Explaining the human body without cardboard diagrams or textbook images can be a daunting task. The children had to confuse body parts and locations.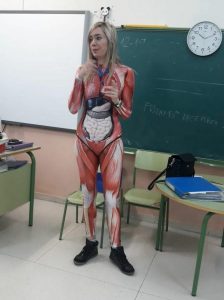 A dedicated third-grader teacher, Veronica Duque, comes in her classroom in a full-body suit that depicts body parts in garish detail to teach her children the human anatomy. She was walking around her children, pointing to the kidneys and asking where the liver is. But when she comes out in a full body suit, there was the real moment to remember.
"I've been teaching for 15 years," she told to Bored Panda. "I know how hard it is for children of this age to imagine the disposition of internal organs, but I thought it would be worth trying. I was surfing the internet and an advert for an AliExpress swimsuit popped up".
The photo was shared on Twitter by Veronica's husband Michael, who lives in northern Spain. " Very proud of this volcano of ideas that I am lucky to have as a woman. Today she explained the human body".
The photo went viral on social media and news outlets. She garnered 69k likes, 14k retweets and 17k comments on Twitter.
On Twitter, several people thought that Veronica looked like Slim Goodbody, a fictional costumed character created and played by John Burstein. Goodbody wears a one-piece suit that depicts different body systems in their most precise locations to teach children about discovery and education.
Veronica says she's thinking about how to be more creative with how she teaches children who enjoy visual aids over written text and spoken words. That's why she decided to use the disguise for a history lesson, she said. She also uses cardboard crowns to help her students learn grammatical categories such as nouns, adjectives and verbs. Different grammar kingdoms, Veronica said.
Teachers are not just pedagogical figureheads sitting in the classroom teaching students. They are channels of wisdom, channels of invaluable knowledge.
Teachers belong to one of the noblest and most honorable professions in the world. And I want society to stop treating them as lazy, bureaucratic officials. "They're not, and that is all I have to say".