Husband Who Lost Cancer Battle Sends Wife One Final Valentine's Gift
Randy Tenney made sure his beautiful wife Debbie Tenney received on Valentine's Day a bouquet of sweet poems for the 45 years they were married. She was the light of his life, mother of his eight beautiful children and his partner in crime. The couple lived in Show Low, Arizona, until Randy died of cancer last year.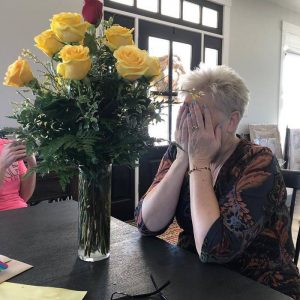 He fought a bitter battle against glioblastoma, a rare and aggressive form of cancer that occurs in the brain and spinal cord. Randy Tenney knew he had not much time left and arranged to send his wife a Valentine's Day gift from friend who owns a flower shop. He knew she deserved one last sweet poem and a bouquet of love. On February 14, 2020, she burst into tears when she received the gift.
A bouquet of yellow roses, topped with a single red rose, was delivered home, together with a handwritten card with sweet poems. "Roses are red, Violets are blue, yelling from Heaven that I will always love you. With love from your eternal Valentine, R.T." She let her tears flow for a moment as she read the card: "It was a heartbreaking, but beautiful moment." Her daughter could be heard in the background as she cried with her mom, "It was dad's idea, Mom. It was all dad. He didn't want you to be without a valentine."
Debbie posted a video of her tearful moment on Facebook that warmed the hearts of thousands of people. The video was shared 109,000 times in February with over 51,000 reactions.
"Today I got a special delivery from heaven. Randy set it up before he died, and I couldn't have imagined anything sweeter." claim Debbie.
Speaking to a local news station, Jordan said Debbie's son, Randy, and his wife had known each other for most of their lives. We were high school sweethearts, they said. I will miss my Valentine's Day very much. The news was picked up by several television stations and media websites, and it seemed like there was an endless celebration of the intense love for Randy.
Randy was an active man his entire life, running a hotel real estate company and coaching Little League for 25 years. Always busy, he was deeply involved in the upbringing of his eight children and his wife Debbie. He loved his children and was a strong member of his community. When Randy died, many people were deeply affected. More than 400 people attended his funeral and many more expressed their heartfelt condolences from far away countries.
He'd lived a fulfilled life, and is survived by his wife, eight children, thirty-three grandchildren, and six great-grandchildren.