Pregnant Elephant Ate Pineapple Stuffed With Crackers In Kerala. She Died Standing In River
There are no words to describe the pain of death. It becomes even more disgusting when the victim is an innocent animal, but the death of a pregnant elephant is a gut twist. It's just cruel, even for a human being.
The poor animal died on 27 May in Kerala while standing in the water after eating a pineapple filled with firecrackers in her mouth and locals were devastated. In search of food, the pregnant elephant was left in the forest in the Silent Valley of the Palakkad District and strolled through the surrounding villages. A forest official publicly revealed the incident on social media.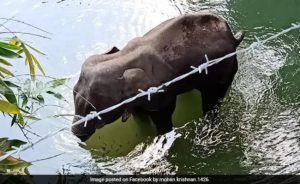 Ashique Ali, a local forest official, believes the explosion broke bones and caused much damage to her mouth, she became so weak that she could not eat and could only walk because of hunger. Forest officer Mohan Krishnan, who was part of the Rapid Response Team to rescue the 15-year-old elephant, wrote on Facebook:
"She trusted everyone. When the pineapple she ate exploded, she must have been shocked not thinking about herself, but about the child, she was going to give birth to in 18 to 20 months.
She didn't harm a single human being even when she ran in searing pain in the streets of the village. She didn't crush a single home. This is why I said, she is full of goodness."
Forestry officials found the animal on May 23 but were unable to calm it down. Two days later, they were told she was in the Velliyar River. They brought two captured elephants, Surendran and Neelakanthan, and led them to the river, but Krishnan said she had a sixth sense and did not allow them to do anything. She went into the river and stood at the mouth and trunk of the water to relieve the pain. After hours of attempts by officials to rescue her, she died in the water on 27 May at 4pm.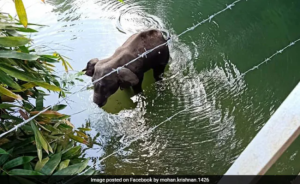 Krishnan wrote:
"She needs to be given the farewell she deserves. For that, we took her inside the forest in a lorry. She lay there on firewood, in the land she played and grew up. The doctor who did her post-mortem told me that she was not alone. I could sense his sadness though the expression on his face was not visible due to his mask. We cremated her in a pyre there. We bowed before her and paid our last respects." 
Numerous teams are searching the area for clues to the death of the poor animal. The shocking case has sparked a criminal investigation on suspicion of animal cruelty. K. Raju, the minister for Forestry, said that a person was arrested in connection with the elephant killing. Offenders face animal cruelty charges, which can result in fines and prison sentences.
India's environment minister Prakash Javadekar, wrote on Twitter:
"Central Government has taken a very serious note of the killing of an elephant in Mallapuram, #Kerala. We will not leave any stone unturned to investigate properly and nab the culprit(s). This is not an Indian culture to feed firecrackers and kill."