"I Waited For 20 Years!" – 49 Years Old Woman Gave Birth To Her First Child With Assisted Fertilization With Donated Eggs
Chantel, 49, has been waiting for 20 years to become a mother, and this year her wish has finally come true. After eight years of trying with her husband and a miscarriage, she opted for assisted fertilization with donated eggs and gave birth to her son a few months before her 50th birthday.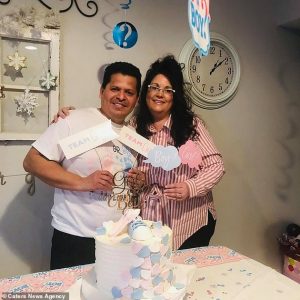 Chantel Chavez from British Columbia and her husband have been trying to have a child for eight years, and this year their wish has finally come true. Chantelle had assisted fertilization with donated eggs and just a few months before her 50th birthday, she gave birth to her first child by caesarean section.
"I waited for 20 years to become a mother. "I wanted to hold my child in my arms and I still can't believe this has finally happened," said the happy mother.
Chantelle and her husband met about nine years ago and were engaged three months later. After they got married, they started talking about expanding the family. Her husband, Elenilson, already has grown children and grandchildren from a previous marriage.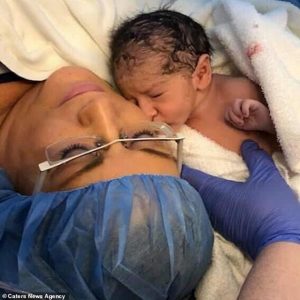 When Chantel and Elenilson got married, it was clear to the new mother that her age might be a problem, but she still hoped she could get pregnant without assisted fertilization.
"We've been trying for eight years, since I was 41, and I only regret it. We needed a lot more time because I thought I could get pregnant. "I was not at all aware of how small my chances of getting pregnant were at that age." Claim Chantelle.
The 49-year-old shares her story in the hope of helping other women her age.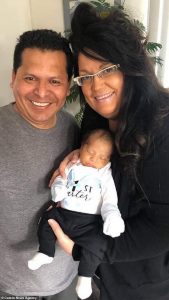 "I want other women in their 40s to be more realistic and to not wait as long as I wait before trying assisted fertilization."
When Chantel was 42, she became pregnant, but unfortunately had a miscarriage.
"We were very sad. I thought then that I would never become a mother. It was the darkest period of my life. "I did not understand what the problem was and I was sad for several years."
After the miscarriage, Chantelle consulted a doctor, who told her that she could try assisted fertilization, but not with her own eggs.
"The doctor told me there was no way I could get pregnant with assisted fertilization with my eggs, but I did not want to accept that."
Chanel and her husband tried for another five years, and then she realized that the doctor was still right. She says that at the moment she decided to try an egg donor, she did not care how she would get pregnant, she just wanted to have a child.
After becoming pregnant, Chantelle was aware of the risks due to her age, but fortunately the pregnancy went great.
"I did not have morning sickness or any other problems. When you consider my age, I was obviously very lucky. I still can't believe this happened. " Assisted fertilization is an incredible feat in medicine."
The new parents have frozen several more donor eggs, and Chantel says that if she wants another child, she will have to do so over the next year because of her age.
"I understand why doctors are afraid to assist assisted fertilization of older women. "We have an option for another child, but if we want it will have to happen next year."
Chantel says family and friends supported her but were still worried about her. Some, on the other hand, were in disbelief when she told them that she was pregnant.
"Several people were shocked when I told them their age, and even told me that my husband and I would have gray hair when our son finished high school. "We may look like his grandparents, but that doesn't matter because he is loved."
Chanel first wanted to have a child in her late 20s, but then had no partner. However, she did not give up and believed that one day she would find her soulmate, and she was right. At the same time, she does not care at all that some people criticize her for her age:
"People judge mothers because they are very young, very old, because they work, because they do not work. I am old enough to know that we made the right decision, and that is the most important thing. We look forward to every minute of it. "I have been waiting so long to become a mother that I do not even care that I do not have time to sleep now."