Mixed-race Couple Recalls The Time A Priest Refused To Marry Them: 'We Were Upset About That'
When Trudy Menard and Barclay Patoir first met, no one, including Trudy, could have predicted that they would end up together. And a couple who has been together for more than seven decades!
Because Trudy was white and Barclay was black, many around them got less appreciative of their connection as they grew to like each other. They even had a disagreement with the priest who would be marrying them.
But their love triumphed, and they remained together to the end, when they died within hours of each other in 2020.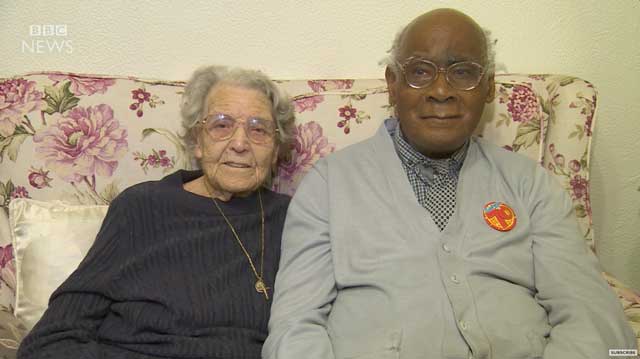 Trudy had been employed at Bryant and May's match factory in the United Kingdom, but after it was bombed during the Blitz, she needed to find new employment.
"I needed a new work and was told that the Rootes aircraft factory in Speke was looking for girls. Engineers were assigned to us, and they advised me to go with Barclay. 'I'm not going with a colored man,' I declared. 'This is the first time I've seen one.' But they warned me I'd be fired if I didn't, so I just did it," she told BBC News in 2017.
Meanwhile, Barclay had lately arrived in the UK from British Guiana (now Guyana) in search of work as an engineer.
"During World War II, Britain had a scarcity of engineer abilities, so young men from the Caribbean volunteered to support the mother country," he explained.
According to the BBC, 345 civilians moved to Liverpool to help with war production between 1941 and 1943. One of them was Barclay.
He was assigned to work on Halifax bombers at the facility in Speke when he arrived.
Trudy acknowledged that she was "frightened to death of him" at the time.
"After a while, we didn't speak, and then he started bringing me a cup of tea, and then he started bringing me sandwiches."
They took some time to warm up to each other, but once they did, they couldn't stop talking to each other.
"They're never going to come down now, they're chatting too much," the others at work used to say.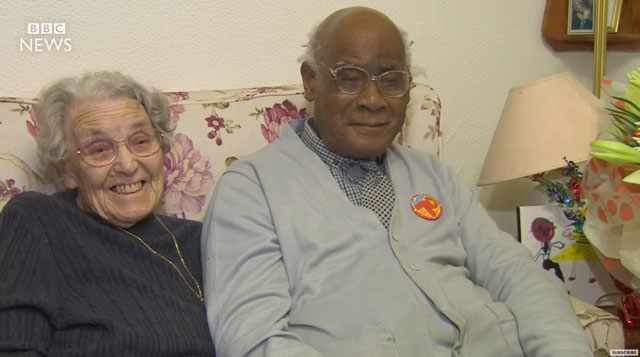 During a production break, the two went out on their first date.
They rode the train to Southport, and despite receiving a few ugly stares along the way, they continued on with their date.
Despite having one of the country's first recognized Black settlements, racism was still very much alive in Liverpool.
Trudy explained, "I didn't notify my mother when I was going to see Barclay." "She mistook me for a female who was going into town to meet the girls." She had seen I was ecstatic, but she had no idea why. She threatened to kick me out of the house if she found out."
Despite the fact that society told them they shouldn't be together, Trudy and Barclay reinforced their bond by dating in public.
They agreed to take the next step about a year into their relationship in 1944, despite Barclay's warning, "It's going to be really hard."
Trudy was unconcerned.
She was certain she wanted to spend the rest of her life with Barclay.
However, marrying him proved to be a challenge. When they went to a local Catholic church to get married, the priest refused.
However, marrying him proved to be a challenge. When they went to a local Catholic church to get married, the priest refused.
'There are so many brown males coming over here and leaving the ladies with children,' he remarked. As a result, I'm not marrying you.' We were irritated by it."
Rather than a church wedding, as Trudy had wished, the couple decided on a simple ceremony in the Liverpool Register Office. A friend of Barclay's and one of Trudy's sisters attended, and the four of them then went out to eat.
They eventually moved from Liverpool to Manchester, but finding a place to reside proved tough.
"However, it was difficult to locate housing because no one would accept a mixed marriage," Barclay explained.
They were able to find a room in a boarding house and finally establish a new life in Manchester. The pair even had a second wedding ceremony, this time with a Catholic priest officiating.
The couple, who had two daughters, noticed a shift in society's attitude toward mixed-race families.
Trudy's mother was not the only one who changed her mind.
"People used to stop and stare at you, or mumble and laugh as you passed, but now they don't," Barclay added.
Trudy observed, "People don't walk on the other side of the street as they used to."
Trudy and Barclay had been married for 76 years when they died in May 2020. When they died within hours of each other, Barclay was 100 years old and Trudy was 99 years old.
Despite the fact that their first encounter was rough, they stuck together till the end.