Kind Couple Fed Homeless Man, Let Him Stay In Their Backyard, And Got Him His Own Solar Tiny Home
A generous couple has been donating everything they have in order to assist a homeless man in regaining his footing.
When a man's scooter burst a tire on their street in Kingston, Ontario, Kim Cormier was working in her yard. She arrived to see if she could help the driver, David McDonald, with anything, and she volunteered to keep an eye on his belongings while he went to obtain a new inner-tube for his scooter.
When David returned, Kim asked him over for dinner with her husband, Andrew, and they learnt about David's condition as their friendship grew. David had been homeless on and off since 2010, when his gas station closed, leaving him without a truck, a house, and a long-term relationship. He became depressed and ended up living in a Toronto park as a homeless person.
"I can't picture being a homeless person." David recalls, "I sobbed." "As a result, accepting aid… charity was difficult for me."
When he could, David stayed with family and even moved into a shared apartment, but that low-income housing complex came with hazards of theft and even threats from others, so he ended himself back on the streets. He had a tent and slept and moved around in it as he needed to.
Kim and David kept in touch after being moved by his story and wanting to help, and she assisted him in locating contributions of clothing, shoes, and a solar-powered backpack that allowed him to keep his phone charged. The more they met, the closer they became, and Kim and her husband offered to let David remain in their backyard in his tent to help him get his life back on track. He'd have access to their bathroom and laundry area, as well as a safe and secure place to remain. Kim and Andrew feel that helping one individual at a time is the best way to improve their community.
David joyfully accepted after numerous discussions and began living in the Cormier's backyard. They assisted with the purchase of a new huge tent for him, which included a new mattress, a sofa, and a small refrigerator. David could come and go as he pleased because their outdoor fireplace doubled as a kitchen.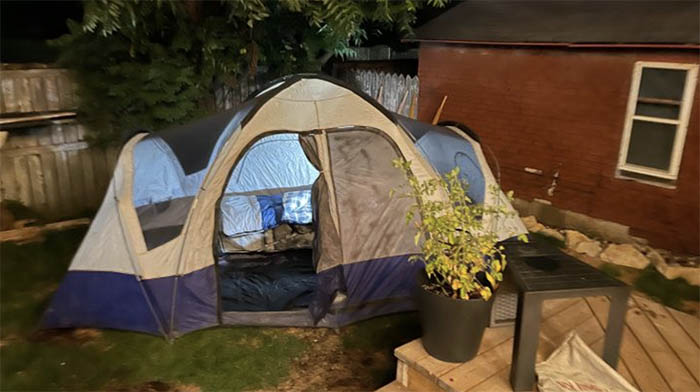 While the tent worked excellent for most of the year, they were afraid that it wouldn't be warm enough in the winter, so the Cormiers came up with the idea of getting David his own movable small home that he could use as a more permanent dwelling in the winter. While Kim and Andrew intended to buy the small house anyway, they decided it would be a good idea to put up a GoFundMe to assist alleviate some of the financial load. Their aim was to raise $18,000 for a solar-powered tiny house for David.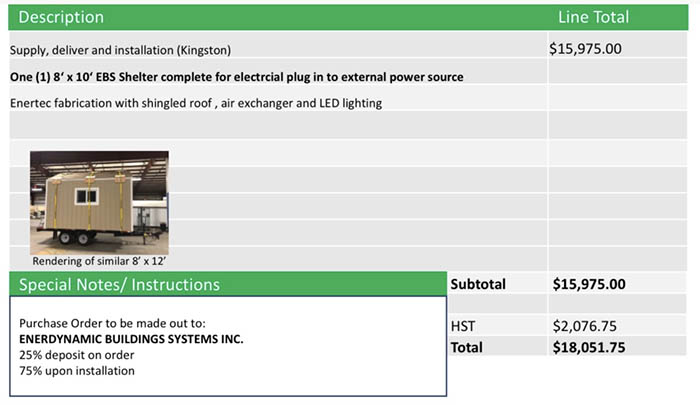 "My name is Kim Cormier, and I'm initiating this fundraising campaign in support of my new buddy David," Kim stated.
"He's a wonderful man who doesn't have a home." He's been on our back patio for the past two weeks (now in a donated tent) and in our life for the past two months. We hope to aid someone in need and to enable/build a more sustainable and better future community. One individual at a time, we are assisting in the support of our most vulnerable members of society. "Society becomes large when old men plant trees whose shade they know they will never sit in," says an old Grecian saying.
"My partner and I have decided that we are ready to give up a piece of our backyard (because our house only has one bedroom) to house David, and these micro houses may be the greatest option for keeping him safe, out of the weather, and getting back on his feet."
"Assist me as I assist them as they assist us all."
They were able to raise the necessary $18,000 and buy David his own solar-powered Tiny House. During the winters, he now has a secure and comfortable home to dwell.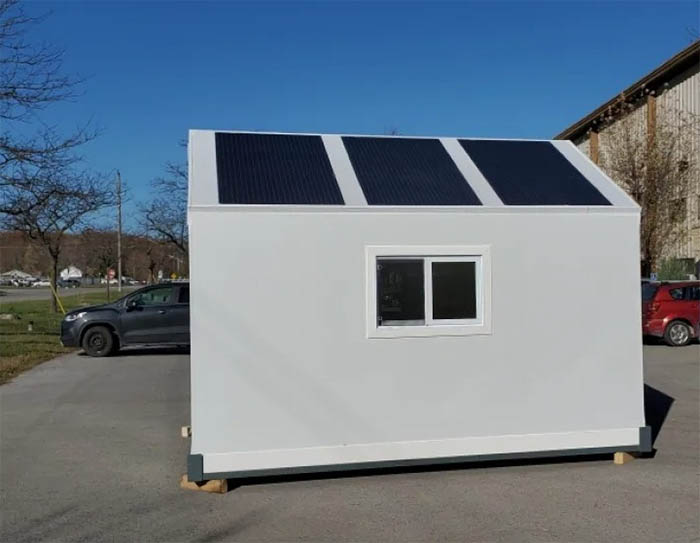 While David's new little house may be moved about, the Cormiers have assured him that he is "one of the family" and that he is welcome to stay with them for as long as he wants. David has been brought to tears by Kim and Andrew's kindness and generosity, which has given him a feeling of worth and human dignity.
"When you're homeless, you have to swallow your dignity," David explained. "She's done more than I'll ever be able to express my gratitude for."
Watch this wonderful movie David made on his phone to help collect money to pay Kim and Andrew back for the cost of his little home: "I don't want them to cover the entire cost."