One Of Three Kids Is Adopted, And There Is One Detail That Indicates It
To have pleasure, we appreciate the challenge of a thinking problem! But, as we all know, they are also excellent brain exercises. This one can help you concentrate better. How well do you pay attention?
Let's have a look. Take a look at the photo; there's a loving family of five! One of the kids has been adopted. Can you find him right away?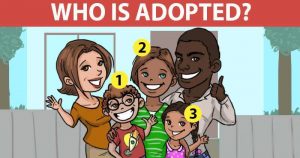 For families, adoption is a beautiful and fulfilling experience.
In the United States, about 135,000 children are adopted each year. According to the data, more than 60% of children in foster care must wait two to five years before being adopted. However, some of them are never able to find their permanent family.
Giving a kid a loving home entails ensuring them of their safety and well-being.
It entails giving him a shot at a better life!
This family in the photo appears to be in good spirits! But were you paying attention enough to see who the adoptive youngster was?
Take a closer look at it.
We can offer you a hint if you still can't figure it out. Take a look at their pupils. The adoptive child has blue eyes, which contrast with the rest of the family.
Genetics is a difficult subject, and the color of a baby's eyes is determined by 16 different genes. However, if the parents have brown eyes, their children are more likely to have brown eyes as well.
Was this a difficult challenge to solve?