Test Your Eyesight. How Many Ducks Are In The Picture?
Check your vision. How many ducks are there?
Take a look at these nine ducks and tell me how many you notice.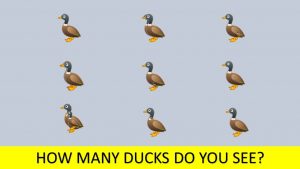 QUESTION: HOW MANY DUCKS WERE REVEALED?
This picture has a total of 16 ducks.
Some are easier to locate than others, but if you keep your eyes alert, you should be able to find all 16 ducks.
The top-centre, middle-left, and middle-right ducks are the most difficult to locate.
Making out the twin ducks at the top-centre and middle-left can be difficult, and the small duck on the wing in the middle-right can only be picked out by a blob of color that sticks out.