Woman Finds True Love with the Man Who Donated Her Half of His Liver & Saved Her Life
True love is a rare gift that many of us may never experience. It's difficult to come by and much more difficult to maintain. We go through so many relationships, losing pieces of ourselves along the way in pursuit of the right one, and every time we think we've found it and are becoming comfortable, we gradually realize we've settled, which is not what we want. We have removed ourselves from ourselves in an age of quick pleasure and short attention spans, and as a result, we have grown complacent. When we don't believe in real love, how can we develop it? How will we ever know whether it's true?
Love languages are a simple and powerful technique for understanding your relationship with others. Learning to love yourself will help you to love others.
Five love languages, according to Gary Chapman, will help you love better.
Words of praise, acts of service, receiving presents, quality time spent, and physical touch are all examples of positive reinforcement. Knowing how to love someone will make your connection stronger in the long run.
In the year 2016, a real love tale begins in a workplace break room.
Former marine Christopher Dempsey donated half of his liver to a stranger who would eventually become his wife, knowing that it would change his life forever. The two married two years after revealing that they were a match.
Love prevails over adversity.
Heather Krueger had been suffering from stage four liver disease for little over a year and a half, and physicians had informed her that a liver transplant would only extend her life by two months. Heather and her family were naturally concerned, with over 119,000 individuals on the transplant waiting list. Until she found her knight in shining armor, that is. Mr. Dempsey told the BBC that he chose to be tested and discovered that he and Heather were a great match.
"I overheard a coworker discussing his cousin's need for a liver transplant and thought to myself, I'd want someone to aid me or my family in such situation."
When Christopher phoned to tell her he was a match and would be willing to donate a portion of his liver in early 2015, they talked for the first time. They later met for lunch, which was paid for by Mr. Dempsey. It was real love at first sight for both of them.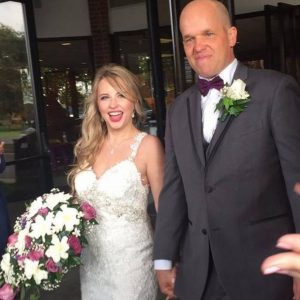 There are no regrets in true love.
Christopher and Heather spent more and more time together in the days leading up to the operation, getting to know one other and falling in love without even realizing it.
Christopher also committed himself to fundraising with the aid of his motorcycle club.
He said they were going out to look for contributions for a fundraiser. Finally, he admitted that the more time he spent with Heather, the more he liked her and desired to learn more about her.
Despite the fact that he had already gone on a few dates prior to the operation, Christopher was certain that "everything will be fine." He subsequently said that he was frightened since anything might have gone wrong, but he never second-guessed his decision.
"Knowing she was going to be okay made it all worthwhile."
After a successful transplant, the pair became official. As a result, eight months after the surgery, on a horse-drawn carriage trip through Chicago, Christopher proposed marriage. The happy pair became Mr. and Mrs. Dempsey after only 19 days of marriage. A true love tale from the real world!
Knowing what Heather and her parents had gone through, Christopher said it was certainly more emotional for them. "I never would have guessed in a million years that I would marry her when I consented to all of this," he later said. It's incredible."