Parents Asked Ronaldo For Jersey To Sell For Child's Lifesaving Operation; He Gave A Full Payment Of $83,000
When a 10-month-old newborn boy required an advanced medical treatment to survive, his parents were at a loss for what to do because they couldn't afford the procedure. When they had run out of alternatives and had nearly given up hope, they were met with a ray of optimism from soccer great Cristiano Ronaldo.
Erik Cruz, 10 months old, suffers from cortical dysplasia, a rare brain disease that causes him to have 30 epileptic episodes each day. A specific form of brain surgery, which costs 60,000 euros ($83,000), is the sole medical option.
Ronaldo, one of the best World Players, noticed the request for a signed jersey and a signed pair of old cleats to sell to help raise cash for young Erik's operation and heard about the child's tale.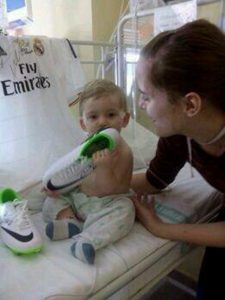 He not only sent Erik the autographed jersey and cleats, but he also offered and subsequently paid for the full $83,000 medical procedure expense, as well as telling Erik's parents that he would pay any necessary follow-up treatments.
The operation went well, and Erik has made a spectacular recovery, much to everyone's delight. Ronaldo shaved a zig-zag on part of his skull during a key game to pay respect to young Erik, who has a scar on his head from the procedure.
Ronaldo has a history of compassionately helping children in need, having previously paid for a nine-year-old boy's cancer treatment and routinely visiting and encouraging sick youngsters in various hospitals.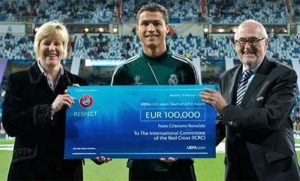 Instead of keeping the European Golden Boot trophy in his already overflowing trophy room, Ronaldo opted to sell it and donate the £1.2 million earnings to a charity that builds schools in war-torn Gaza. Ronaldo reportedly gave £5 million to the Nepal Earthquake Relief Fund immediately after the 2015 earthquake, according to sources.
He recently gave another trophy to the Make-A-Wish Foundation, which raised £530,000 for underprivileged children. He turned around and donated a €100,000 incentive to the Red Cross after receiving it from the European regulating body.
Ronaldo utilizes his celebrity and money to support and inspire youngsters in hospitals across the world. He gives out complimentary tickets to his private stadium box on a regular basis so that his fans may have a good time while enjoying seeing him play.
Ronaldo is currently an ambassador for three wonderful charities: Save The Children, UNICEF, and World Vision, to which he donates a significant amount of his personal wealth.
Ronaldo's charity has made a huge impact in the lives of many people, demonstrating what a difference a celebrity can make when they choose love and compassion above money. Thanks to Ronaldo's generosity, little Erik will be able to live a life free of daily seizures.