Loyal Golden Retriever Spends Two Weeks Walking 62 Miles To Find Her Owners
One thing comes to mind when we think of dogs: loyalty. Dogs are our best friends for a good reasons: their unconditional love, devotion and loyalty is what we seek and cherish in our lives. After being left behind and looking for a friend, a female dog in China ran 62 miles in 14 days to reunite with her family.
A family's dog in China for its owners has melted millions of hearts. After family left their friends to look for dog, the golden retriever walked more than 62 miles in a fortnight. The trip left her bruised, thin and bleeding from her paws.
In June, when the family occupied and renovated their house in the eastern Chinese city of Qidong, they asked a friend to take care of their faithful dog so as not to disturb the stubborn construction. The dog was discovered limping by a group of workers. They rescued her and tracked her down to the owners.
Four months later, they learned that Pe had escaped from a friend's house in Nantong, more than 100 kilometers away. The family drove more than two hours to leave Pe at home with friends. They didn't know where she was and struggled to figure it out for themselves. After 14 days and 62 miles, Pe was seen on 26 October by a group of workers in an office in Qidong City.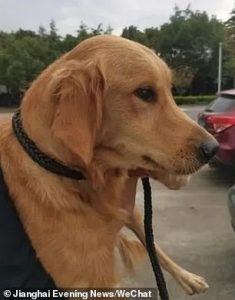 She was found with bleeding paws and was very thin and bruised. Pictures taken by rescuers showed her lying malnourished and with her head down in the street. She said she looked depressed because she hadn't found her owners.
Workers tended to the dog and tried to track down its owners by sharing the information on WeChat, a popular Chinese messaging app. The family recognized her and picked her up. A video shows them being reunited after four long months, with the family cuddling and hugging them.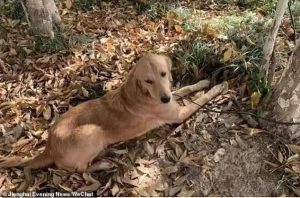 Touched by Ping's loyalty, the family has promised to keep her by their side for the rest of her life.
A similar thing happened in China, when another dog, Dou Dou, walked 37 miles in 26 days to find its owners. Dogs are simply the best!