'I AM PREGNANT and I GOT HIRED': Mom's LinkedIn Post Goes Viral
Interviewing for a job can be nerve-wracking, but doing so while pregnant can be terrifying.
However, this pregnant woman was employed, and her LinkedIn post has gone viral!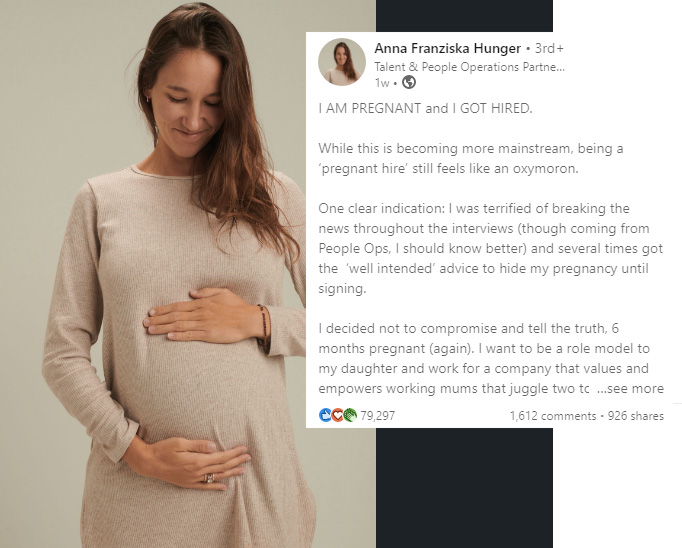 Anna Franziska Hunger, a Kaya Talent & People Operations Partner, wrote the following:
"I GOT HIRED WHILE PREGNANT."
While being a 'pregnant hire' is becoming increasingly common, it still feels like an oxymoron.
One telltale sign: I was frightened of breaking the news during the interviews (despite the fact that, coming from People Ops, I should know better) and was given the 'well-intentioned' advise to keep my pregnancy hidden until signing.
I chose not to make any compromises and told the truth, even though I was 6 months pregnant (again). I want to set an example for my daughter by working for a firm that values and empowers working mothers with two toddlers.
The end result: I got the position, including maternity leave, and I couldn't be more excited to be a part of such a forward-thinking and exciting organization.
Thank you, KAYA VC, for believing in me. I'm looking forward to getting started and assisting additional founders, people teams, and scale-ups with all things talent and people operations."
Her post received around 80,000 likes and tens of thousands of comments.
"I did as well! After years of infertility, I found out I was pregnant a week after starting my new work "One person made a comment. "I was clearly apprehensive about telling my supervisor, but I realized I had no choice. What was his reaction? Complete and total assistance. 'I love recruiting parents because they know how to be efficient and they need the job to support their family,' he explained. But the first thing out of this man's mouth was a heartfelt 'Congratulations!'"
"I completely understand because I was also recruited while pregnant. It was 30 years ago today "another woman added her two cents.