Rich Man Finds Note Written by His Late Father in Homeless Man's Jacket
A wealthy man finds shelter in a poor man's hut from a snowstorm, only to discover a message written by his late father in the guy's jacket.
John Keys, 35, seemed to have it all. He was well-off. He had a wife called Meredith and two children, an eight-year-old boy named Todd and a four-year-old daughter named China, who both adored him since he took his role as a parent and husband extremely seriously.
Because his parents were impoverished and couldn't afford to care for him, he was placed in an orphanage when he was five years old. He remembered his father saying, "We'll be back for you soon okay."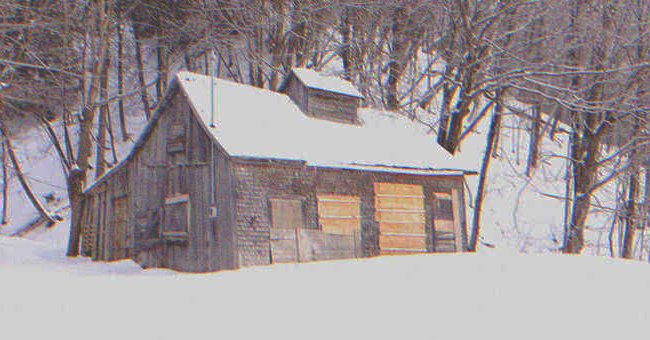 They assured the orphanage's director that they would return for their son once they had saved up enough money, and he guaranteed them that the boy would not be adopted.
John had a long day ahead of him, and he was missing his parents greatly. As the hours passed, he waited and waited, anticipating his parents to return the next day.
One day slipped into two, then into a month, and eventually into a year, but John's parents were nowhere to be found.
As a result, he was raised in an orphanage, but he never forgot the disappointment he felt at the hands of his parents, and vowed to be a better father.
John was a bright young man who took his studies extremely seriously until he graduated from high school and enrolled in college.
After that, he landed a wonderful position at a technology company that paid well and gave him excellent prospects to progress in his profession.
He was traveling home from his 40-mile-away office at lunchtime one day when a state of emergency was proclaimed due to a massive blizzard that made driving difficult.
Because of his son's birthday celebration, John, who had received permission from his manager to leave work early, opted to disregard the warnings.
"I won't let him down like my parents did," he promised himself.
He knew how much his kid had been looking forward to his birthday, and he had told him that he would be there to help him celebrate. They even had to wear identical costumes, something he wasn't about to pass up.
He started on the road, but after approximately thirty minutes, he had to pull over due to reduced visibility.
As he waited at the curb, the snow became deeper and the cold seeped inside the car, so he turned on the engine and the heater, instantly finding relief as the heat flowed throughout his Porsche.
The respite lasted barely two hours, almost the same time it took for his gasoline tank to deplete, after which he began to freeze.
He noticed a little cottage in the distance among the trees and decided to take a chance. He hurriedly exited his car after securing it and proceeded to the cottage.
Inside, he encountered a filthy, ragged homeless man named Simon, who introduced himself. It was filthy inside, and it was also freezing.
"Is it okay if I hassle you for a place to stay? It's snowing like a blizzard out here, "He inquired.
"Of course," the man said, hastily handing him a pile of old, raggedy warm garments and blankets to keep him warm.
John was hesitant to use them, but he didn't have an option because he was freezing.
"This time of year, there's always a lot of snow," the guy added as he maintained a tiny fire in the hut's center.
"I heard about the storm, too," John said, "but I hoped to outrun it because I had a really fast automobile."
"I suppose it couldn't live up to the hype. You need to be more cautious," Simon remarked.
"My son need me to be at home. I promised to be there for his birthday, and I don't want to let him down "John remarked.
"It's good to know he's a devoted father. However, you should take fewer chances so that he does not lose you so quickly."
The notion jolted John awake, and they both became silent. As the minutes passed, John slid his hands under Simon's old jacket to keep them warm, and emerged with a sheet of paper.
It had some written words on it, which he had to strain his eyes to read. It began, "For my wonderful son Johnny."
"My dear John, you have no idea how much we adore you. We don't have enough money to care for you, so we chose to take you to an orphanage to make some cash. We were able to get work in a sawmill in the forest near our town. We were returning from the sawmill to the cabin where we had spent the previous two nights. But then it began to snow, and we were stranded in the woods. My kid, we're cold, and I believe we'll never see you again. We didn't want to abandon you; all we wanted was for you to be happy. John, stay strong! Simon, I'll leave this message with your Uncle. He left in search of assistance, but I doubt he will return in time. I'm confident he'll look after you. Your loving parents."
As he finished reading the letter, John sobbed, and when he glanced up, he noticed Simon staring at him strangely.
"Are you all well, young man?" Simon was the one who inquired. "Do you require any assistance?"
John turned to Simon with a cry, gave him the message, and addressed him as "Uncle?"
Simon was taken aback. He couldn't believe his ears, so he proceeded to double-check. "What caused your father's scar on his left breast?" Simon was the one who inquired.
"It was from a skating accident he had while taking me to the ice rink," John stated flatly. It proved that John was, in fact, his blood relative.
"Your parents were living with me in this hut and working at the sawmill together. I'm sorry for what happened to you, John; I'll never be able to forgive myself."
Simon also confessed that he was aware that he lacked the financial means to care for John, which is why he did not remove him from the orphanage. He stayed in his hut for all of these years, and the only time he ventured out was to get some food.
They went to town together the next morning, when John recommended that Simon move in with his family. The elder gentleman attempted to reject, but John would not let it.
"You will, uncle," he continued, "or we will move down here to join you. I may not be able to care for my parents any longer, but I will look after you." John took care of his uncle from then on since he was the only family he had left.