Kind 6-Yr-Old Brought Elderly Homeless Man A Meal And Plans To Bring A Nice Blanket And Pillow Next Time
When a 6-year-old child in downtown Pittsburgh noticed an elderly homeless guy sitting on the street, he wanted to help him.
"This is Edward, my 6-year-old kid," Bekki Viau said on Facebook. "He observed an older man sitting on the street with his cup out for money this afternoon while going through downtown Pittsburgh on our way to grab lunch before his doctor's appointment."
Edward asked his mother for some extra change, and once she handed it to him, he walked up to the old homeless man's cup and placed it in his cup. However, he was concerned that the homeless guy might not have eaten today during their lunch, so he asked his mother if they could bring him something to eat, which she agreed to.
"Edward tossed a few coins into [the cup], but it wasn't enough. We went to McDonald's after we finished our lunch and bought some food for the good man who was seated there. Edward believes that everyone should have the opportunity to eat, therefore he did. He prepared a dinner for him."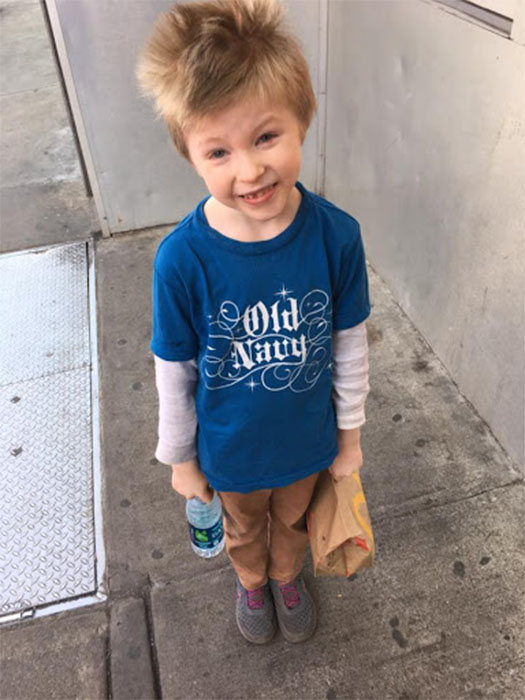 Little Edward was overjoyed that they were able to assist the old gentleman. He was still thinking about him later that night, and he was worried that he could be chilly sleeping on the street. His kind heart asked his mother if they might bring him a new blanket and pillow the next time they went downtown, which she gladly agreed to.
"He wants me to go back and get him a blanket and a pillow, so I'll put it on Edward's shopping list." I like his compassion; it makes me believe that my husband and I are doing something right in parenting him, and I hope that our other two children will follow suit."
Many people have expressed their gratitude for little Edward's wonderful gesture for the old homeless guy on the internet.
"Edward, You're Amazing!" You have a colossal heart. What a wonderful example to provide for the rest of the world," Gigi C. commented.
"He has the talent of giving and caring," Mary S. observed.
"It's never too early to instill and nurture empathy and compassion in our children." Rhonda C. remarked, "He certainly has a lovely little Soul."
"Instead of old navy, his t-shirt should say old soul!" "Tania T. penned a letter to the editor.
"I'm really proud of him. "This new generation has the potential to spread love and generosity," Leighann N. remarked.