Only Geniuses Can Find The "Y" In Less Than 60 Seconds
How well-focused is your mind? This easy learning game is enjoyable for all ages while also improving your logical and visual abilities. Simply look for the odd one in the photo; in this example, look for the "Y." It's more difficult than you think, and you only have one minute to figure it out. How long do you think it'll take you?
If you get stuck, you may check the solution by scrolling down. Are you willing to take on the challenge? Let's get started!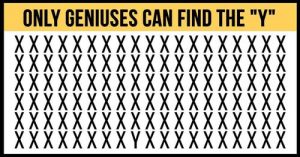 Are you the one who did it? Don't worry if you struggled; practice makes perfect. We have the answer for you right here.
This is the result:
.
.
.
.
.