Amazon's Selling A Guesthouse 'Kit' That You Can Build In Your Backyard In 8 Hours
DIY projects have been increasingly popular in recent years, particularly now that individuals are confined to their homes owing to the quarantine. These projects might range from useful items like weed killers and cleaning wipes to decorative items. Because Spring is traditionally when people repair their homes and gardens, some of these DIY projects may be handy if you don't want workers in your home or lawn. You may find amazing DIY projects online, whether it's adorning your backyard with glass garden mushrooms or constructing a new pergola with swings and a fire pit. The only things you'll need are the materials and the time to construct these structures.
Every home should contain a guestroom, which can be utilized for entertaining guests or for reading, relaxing, or working. If you don't have enough space in your home to set aside a room for such events, you're in luck. On Amazon, you can get a DIY kit for a "guest house or home office," just like you can find a DIY kit for almost anything else. If you can't find it on Amazon or it's sold out, check Allwood because they were the original developers of this garden home kit.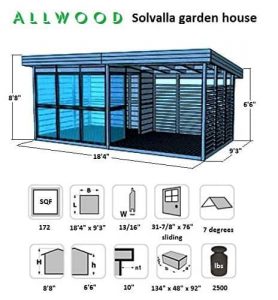 The ideal addition to your backyard is Amazon's excellent DIY guest house or home office. You may easily change it into a studio, pool house, gaming room, or any other notion that comes to mind if you don't want to utilize it as an office or a guest house. If you don't want to put it in your garden, you have the option of putting it on your roof. Even those who live in multi-story buildings might profit from a garden house in this way.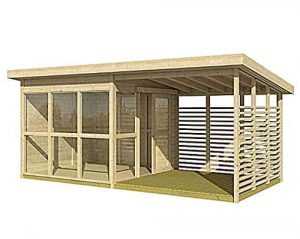 This Solvalla garden house is composed of high-quality solid Nordic wood, giving it the appearance of a traditional log cabin. It also features an outdoor deck where you can sit and read or grill some food.
You are free to alter this garden house in any way you see fit, including painting it and adorning it with any type of furnishings. Your imagination is the only limit to what you may do with this garden house.
The Solvalla garden house weighs about 2500 pounds (1125 kilograms) and measures 172 square feet (or 16 m2).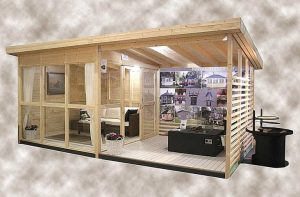 Except for the foundation and rooftop shingles, the kit includes all of the materials needed to construct the garden home. You'll also get step-by-step instructions for putting the garden home together with the kit. Although you won't require many tools to complete the project, you should enlist the assistance of a friend. This garden home will take about 8 hours to complete with two persons.
Make sure this addition to your home does not incorporate power, HVAC, or plumbing before acquiring it. Allwood, on the other hand, sells DIY add-on packages such as bathrooms. It's up to you to connect HVAC and electricity if you wish to do so.
The kits and components for this garden house can be obtained on Amazon or on Allwood's official website, as previously stated. The pricing will vary depending on the design, but it should be around $6,750.00 without any extras. Even better, the full kit will be delivered to you in 3-5 weeks, and delivery is free if you get it through Allwood's website.
Make sure to check out Amazon's other decorative outdoor products, such as this garden dome!