Mother Shared Photo of Newborn Who Looks Like Woody Harrelson. The Actor Responded With a Poem
This lady from Northern Ireland wondered if her baby girl resembled Woody Harrelson, although most parents and their family members try to predict which parent or grandparent a newborn resembles. On August 3, Dani Grier Mulvenna shared a picture of her infant daughter Cora grinning next to a screenshot of Woody Harrelson giggling in the movie Zombieland. "Ok but how does our daughter look like Woody Harrelson?" she asked in her post.
Over 500k people have liked and retweeted Dani's tweet as of right now. The responses were varied and frequently funny. According to CBS News, one answer in particular—that of Emmy Award winner and three-time Oscar contender Woody Harrelson—took center stage.
Ok but how does our daughter look like Woody Harreslon pic.twitter.com/v3oZbXDrQM

— Dani Grier Mulvenna (@DanielleKGrier) August 3, 2022
In addition to seeing the message and responding, Harrelson also posted a "Ode to Cora" on Instagram. You're a gorgeous child/Flattered to be compared/You have a wonderful smile/I simply wish I had your hair, he wrote in his letter. "You've made our day can't wait to show her this when she's older, you have another fan for life xxx," Cora's mother wrote in response to his post.
Cora expressed gratitude for the likes and retweets in a subsequent tweet from Dani, who added that while she doesn't always resemble Woody Harrelson, "when she does…she really truly does." It's not every day that Woody Harrelson [sic] sends your daughter a poem, she said in a tweet as another way to thank him.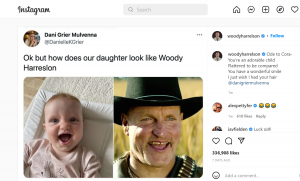 Many people commented by saying that Cora did resemble Harrelson quite a bit.
One user said, "She really does, omg! Woody, albeit a lot cuter Woody, is still Woody." Another user joked, "Why do you ask, ma'am? YOU should be the one we ask." Added another "It baffles me because my son, who has a similar appearance to him, went by the name Woody during his time in high school and in the Army. The man and I never spoke. In the middle is my son."
I get it that people love the baby doppelgänger of Woody Harrelson, but check out how my grandson is channeling @johncreillywtf pic.twitter.com/oQn6BJns9i

— Jana Riess (@janariess) August 6, 2022
On Harrelson's post, many other individuals left comments. One person wrote, "This is wholesome." Someone quipped, "Woody, I believe the father will speak with you briefly. Ahahhhaahah," Others claimed that the actor's lovely gesture brightened their day. Some people on social media claimed to have a similar appearance to him.
For his parts in Zombieland, Now You See Me, A Man from Toronto, and Venom, Harrelson is well recognized.
Seeing that baby who looks like Woody Harrelson reminded me that when I was a baby I looked like Johnny Carson. pic.twitter.com/zUlbMR0zQZ

— The Girl with the Mozart Tattoo (@phibetakitten) August 7, 2022
Source: news9.com