Man Paid Entire Bill After Hearing Young Man Worked To Buy His School Supplies So Mom Didn't Have To
A nice man stepped up after overhearing a young student tell the cashier how he had worked all summer to aid his mother, and chose to cover his entire payment.
Keri Miller and her husband, Alan, were shopping at a Walmart in Georgia when they overheard a young man in front of them in the checkout line conversing with the clerk.
"It's not going to make my hubby happy that I'm sharing this." "We went at Walmart tonight and overheard this young guy's talk with the cashier as we were checking out," Keri said on Facebook.
They could see that the young man had all of his school materials on the checkout conveyor belt and was conversing with a young cashier in a cheerful manner. He told the cashier that he had been working all summer and that he would buy his own school supplies so that his mother wouldn't have to.
"'I worked all summer,' he remarked. As a result, I assured my mother that she didn't have to spend any money on my school supplies this year.'
Alan's heart was affected, not only because he had deduced that the younger man's mother was likely in need of assistance in getting him to school, but also because the young man in front of them had spent the entire summer helping to lighten her load. Alan decided to be a favor to him by covering the entirety of his checkout bill.
Keri added, "The next thing I know, my husband is shaking this guy's hand and paying for his school supplies."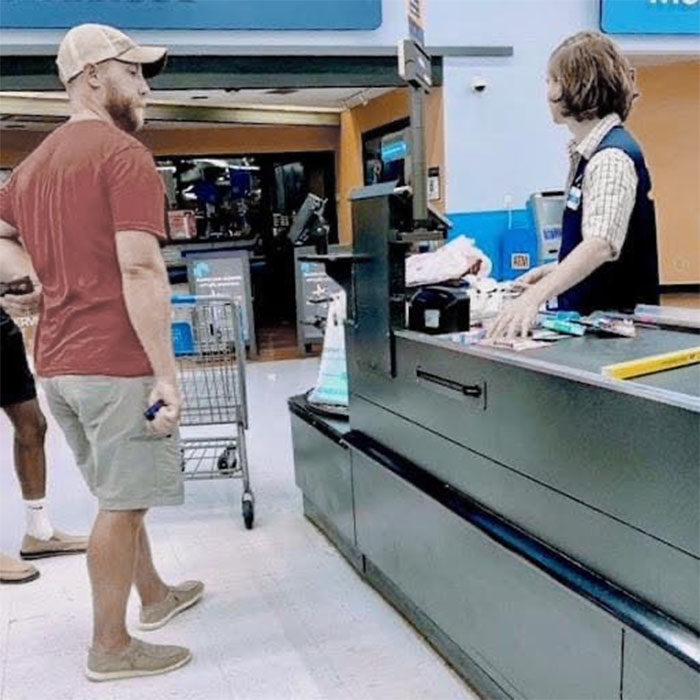 Alan congratulated the young man on his achievements and informed him that he was on his way up in life.
"Alan has always respected hard effort, and he encouraged this person to keep doing what he was doing, knowing that his future was open to him."
Keri hopes that, rather of focusing solely on the negative aspects of life, we might learn to appreciate and share more of the love and kindness that occurs every day all around us.
"I didn't want to put this on the internet just to boast about my hubby." But also to congratulate this young man! I thought this was exactly the kind of positivity I needed to witness in a society where we are so quick to 'share' the horrible things that are going on!"