How Fast Can You Spot The Difference Between These Two Images?
All the creators of this puzzle want you to do is find one small change between the two photos. Now, we can't determine whether the difference is in the first or second photo. However, we can be certain that it exists someplace. Let's get the mind and eye games started! Good luck with your hunt!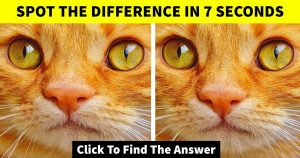 Scroll down for the answer
.
.
.
.
.
.
The Answer
We hope you've figured out the correct answer by this point. And, if you answered yes, don't forget to share your thoughts with us in the comments area.
And the right answer is that the nose in the first photo is shorter than in the second! After all, we hope it wasn't too difficult for you.
SHARE WITH YOUR FRIENDS AND FAMILY RIGHT NOW in the hopes of catching them off guard!