Colchester Couple Who Suffered Four Miscarriages Welcome Miracle Baby
A couple who suffered four miscarriages and was told by doctors that they had only a three percent chance of having children, has given birth to their miracle "rainbow girl" after ten years.
They resigned themselves to the fact that they would never have a child of their own and started the adoption process after being told by doctors that expensive IVF treatment was unlikely to work. The couple, from Colchester, were shocked when Dawn fell pregnant last year but faced an agonizing wait amid concerns their daughter would not make it to week 12. But on July 4 they welcomed their first child into the world at Colchester Hospital, which weighed six pounds and three ounces.
"When we first got together, ten years ago, we live in Lincolnshire and we had go through every possible treatment until we had an answer. We knew I wasn't pregnant. We had endless tests and examinations and did everything we could".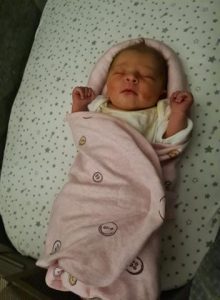 "I was flagged down at 39 and paid for further tests, only to find out that my hormone levels were too low and I was unlikely to have a child of my own. We moved back to Colchester and did everything we could. I went through all this heartache because of what they told me".
"They said a full term was impossible. The couple were offered 15,000 pounds IVF treatments and 16,000 euros in fertility treatment in Spain, neither of which were guaranteed to work. "We thought there were a lot of children who needed to be adopted, so we went down that path".
"We were going to go to the briefing that day and 48 hours later I felt uncomfortable. Mark I was joking around and saying I'm pregnant. I nearly passed out when I saw it said positive. I had to do six or seven tests before I believed it".
The couple faced an agonizing 12 weeks of waiting and intensive tests in hospital to see if little Erin would make it. "We took one step at a time until she made it". At 22 weeks, Dawn started bleeding and  panicked. "I was rushed to hospital to have a look and was told I had a polyps on my cervix".
"They examined her and found that she had a strong heartbeat and was perfect in every way. They kept scanning her every week and she was doing amazingly well. She never gave up at all".
"My husband couldn't stand through last couple of scans because of the coronavirus and I was on my own. I was week 39 when I went to the hospital to be admitted. The team at Colchester Hospital's Lexden Ward, were outstanding.
"Our little lady was born on July 4th. She was yellow when we took her to hospital and she is doing really well. She's my miracle "rainbow girl". She didn't know we had her at that moment".
"When she arrived, we burst into tears, she said. We blamed ourselves and asked why it had happened to us again and again".
But Dawn hopes that this story will help others go through similar things. "No matter how desperate things seem, don't give up, have a hope. In the end, it will all be worth it".