Woman Expecting Seven Babies Gives Birth To NINE Instead
A young mom gave birth to NINE babies instead of seven.
A Malian woman, Halima Cisse who is 25 years old, was told that she expect seven babies. She gave a birth to nine babies, after doctors missed two heartbeats on her scans.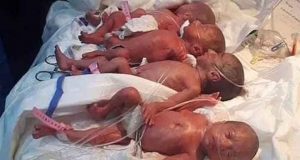 Halima now is a mother to nine children – four boys and five girls. Daily Mail reports that all the newborns are "doing fine" after a cesarian section in Morocco.
Ms. Cisse's unusual pregnancy journey caught the attention of the Malian leaders. Even the country's health minister, Fanta Siby, got involved in the process. Siby said in a statement:
"The newborns and the mother are all doing well."